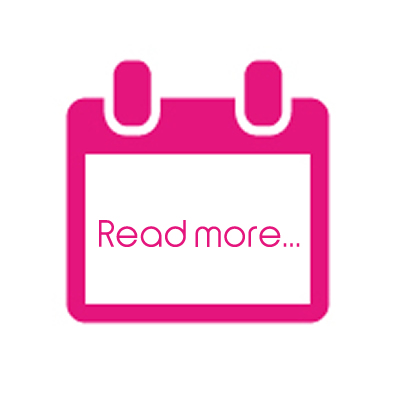 InChorus InDublin InCredible
Sal Brown, 7 years ago
2 min

read
10
When a choir member asked InChorus if they would consider travelling to Dublin to sing at her son's wedding, the choir set about arranging a long weekend of music in the Emerald Isle around the event.
Colin Macnab from West Linton was marrying Emma Jacob in her home town of Dun Laoghaire, and InChorus was asked to sing both at the church, and at the reception.
Around half of the members of InChorus were able to make the journey, and they swiftly set about promoting the Scottish Borders through their own exuberant brand of contemporary music, all over Dublin.
They sang on the bandstand at St. Stephen's Green, at the foot of Grafton Street, on St Patrick's Green, at the Molly Malone Statue, in Temple Bar and at other city centre sites, attracting and wooing audiences wherever they went. They also sang in several pubs, including Dublin's famous Cobblestone, Billy Connolly's favourite Dublin pub.
"Having the opportunity to sing in such a variety of places over such a short space of time was a wonderful experience for us." said choir manager, Lorna Turnbull, "The Irish were so welcoming and so appreciative of our music, and we were told several times by tourists that we were 'the best thing they had heard in Dublin'. It was a joy to be there."
The choir has already received several invitations to return to the city, which they are considering.
And what about the wedding? The bride's father said he had "never heard such a pure and joyous sound in the church – not even on Christmas Day when the place is packed to the rafters!". Everyone in the choir agreed that it was a beautiful, happy day spent among delightful people, many of whom came from Peeblesshire.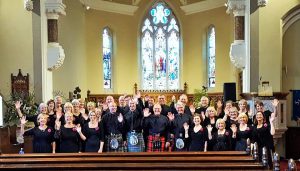 Related posts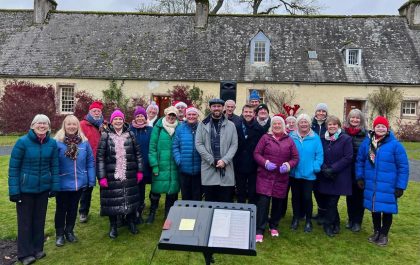 A Traquair Christmas singout
It didn't rain and it didn't snow but everyone was prepared and looked festive for singing at Traquair on Sunday…