Choir celebrates – Sat. 13th May 2023
Lorna Turnbull, 2 months ago
2 min

read
55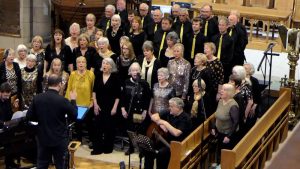 Peebles choir, InChorus, is celebrating by staging a charity concert in Peebles Old Parish Church on Saturday 13th May at 7.30pm.
The concert will take place one week after the coronation with all its festivities. Is that what the choir is celebrating?
Choir Manager, Lorna Turnbull told us, "Our choir has much to celebrate this year. We are 15 years old at the end of the summer and we have had a wonderful time during these years. We have made lasting friendships. We have filled theatres and concert halls, including Edinburgh's Festival Theatre and Usher Hall. We have travelled to New York, Dublin and Barcelona. We have had five sell-out shows at the Edinburgh Fringe and we have sung at other festivals, the biggest of which, to date, was Carfest where Chris Evans invited us to the main stage to sing a couple of songs between headline acts Texas and the Manic Street Preachers in front of an audience of 20,000 people. It has been amazing."
Lorna continued, "The best shows for us, however, are always the ones staged at home in Peebles to the people who have supported us so well throughout our fifteen years. We never take this for granted and are very grateful."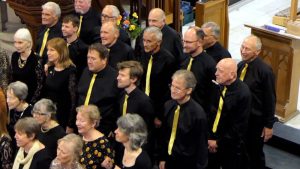 Since the lifting of lockdown restrictions the choir has been learning an entirely new repertoire which it is keen to perform to the home crowd. There is something to suit every taste. In the rock and pop genre there are pieces by Neil Diamond, The Beatles, Bee Gees, Anthony Newly, ELO, Adele, Seal and Coldplay. There's a bit of folk by Dougie Maclean and Bob Dylan. There is something from the musicals, and, in a more classical vein, pieces by Eric Whitacre, Mozart and Verdi. Everything will be sung with the choir's attention to detail, and with the singers' usual vibrancy and enthusiasm.
Those who know InChorus, know that members love to raise money for charities. This concert is no different. This time all profits from ticket sales and an on-the-night raffle will be going to the My Name'5 Doddie Foundation, a charity which is very close to choir members' hearts because their former Choir Manager was diagnosed with the disease last year.
Lorna said, "We raised over £1000 from small Christmas events for this very worthwhile charity and hope to raise even more at the concert. Our audiences are always very generous which InChorus appreciates."
Tickets priced £10 (£5 schoolchildren) are available from choir members,  from Graham McGrath, Gentlemen's Outfitter, Eastgate, Peebles, or contact InChorus online at www.inchoruschoir.co.uk, on Facebook, Twitter or Instagram.
(Peeblesshire News 14th April 2023)
Related posts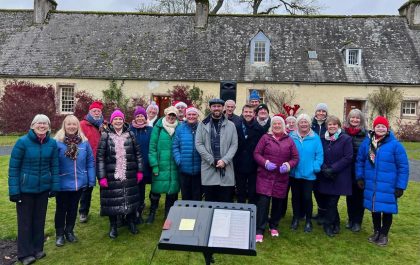 A Traquair Christmas singout
It didn't rain and it didn't snow but everyone was prepared and looked festive for singing at Traquair on Sunday…