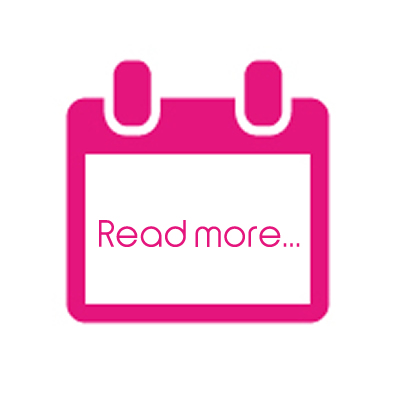 Director Aly bows out with a song….or two!
Sal Brown, 4 years ago
4 min

read
13
It is with enormous regret that members of InChorus bid farewell this week to their much loved Musical Director of five years, Aly Skidmore. Aly has moved away from the area, and thus brings to an end this wonderful and most rewarding era in the life of InChorus.
Aly joined the choir as an alto, but her musical ability was soon evident as she became a Section Leader and was then appointed Assistant Musical Director. When founder, Andrew Russel, left the choir suddenly, she immediately stepped up to become Musical Director.
Choir Manager, Lorna Turnbull said, "Since then the choir has often reflected on how extremely lucky we were. Aly threw herself heart and musical soul into InChorus to ensure our continued progress. Not only did she set about arranging music to suit us, but her determination and drive to coax the best out of every member has earned her the choir's respect and love."
When she first took over, Aly decided that the best way to seal her new status with InChorus, and, indeed choir audiences, was to stage a large concert at home in Peebles Old Parish Church. The first 'Beat the Winter Blues' concert, performed to a capacity audience, cemented her appointment and endeared her to all. This was the first of numerous concerts and events in the Borders and Edinburgh.
Add to that regular sell-out performances at the Fringe and travel to music festivals in Britain culminating in the choir singing to 20,000 people at Carfest North in aid of Children in Need, and you begin to appreciate the scope of Aly's imagination, and that of her management team, for choral experiences.
When performing at a prestigious charity dinner in Edinburgh, Aly put InChorus up as an auction prize, 'selling' the choir for £1100 which led to an even more prestigious gig. She devised the first ever 'Choir-aoke' where the audience ditched its inhibitions and sang along lustily with the choir.
Under her baton, the choir travelled to Dublin to sing at a wedding, and took the chance to perform all over the city. Then last year, to celebrate its 10th birthday Aly led the choir on a wonderful performance trip to Barcelona.
Ever alert to what is happening on social media, Aly embarked upon organising videos to promote, not only InChorus, but also the beautiful areas in and around Peebles. First recorded and filmed was John Lennon's 'Imagine', closely followed by 'I Will Follow Him' from Sister Act. Then, in 2017, Aly masterminded the staging a giant flash mob involving the Peebles public. In a collaboration between the Eastgate Theatre and InChorus 700 people of all ages were filmed 'Dancing In The Street' to the choir's recording.
Her most recent venture is a fun video with a serious message in support of the Tweed Valley Mountain Rescue Team. In this fundraiser the choir sings Aly's arrangement of some Motown greats, entitled 'Tweed Valley Motown Rescue'.
Also, during Aly's tenure InChorus has been responsible for many thousands of pounds being raised for charities, both national and local.
Lorna continued, "Is it any wonder that we are sorry to lose her? Her energy, enthusiasm and humour over these past years has been a tonic for us all. We just can't tell you how much she will be missed."
As always, Aly herself insisted on having the last word.
"Five years of fun at the helm of InChorus came to a fitting end on Monday at the Biggar Little Festival. We sang, we laughed, we cried and, most importantly, every single one of us felt proud to have played a part in the life of this vibrant and wonderful group."
"It has been an incredible journey and I'm a better person for it, but the quality of the journey isn't down to the distance you travel but the people you travel with. Directorship may end but friendship and memories last a lifetime. Thank you to this fabulous choir for enriching my life for so long.
InChorus will go on to new adventures under the baton of their new MD and I have no doubt they will go from strength to strength. I will be their number one fan and look forward to smiling broadly and proudly from the audience at many events to come."
Related posts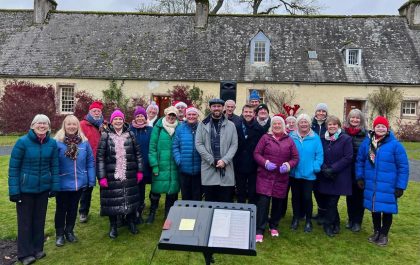 A Traquair Christmas singout
It didn't rain and it didn't snow but everyone was prepared and looked festive for singing at Traquair on Sunday…