Peebles choir set for Fringe performance – Mon 15th August 2022
Lorna Turnbull, 11 months ago
2 min

read
24
Report by Isabelle Truscott – Peeblesshire News, 1st July 2022
A Peeblesshire choir is showing it is still standing after the coronavirus pandemic.
For one night only and following on from four previous sell-out shows, InChorus will return to the Fringe in August.
The Peebles choir will bring its show 'Still Standing' to the Fringe to show how much joy there is in singing with a choir.
Choir Manager, Lorna Turnbull said, "Throughout the pandemic choir members kept in touch by singing 'together' on social media but it was a poor substitute for the real thing.
"We were delighted to be able to see each other in person again, and to begin learning a new repertoire under the baton of our new Musical Director, Au Arias.
"We set ourselves the target of being performance ready for the Fringe.
"Ready and 'Still Standing' we are.
"The choir hopes that some of our home crowd will travel to Edinburgh for the show. InChorus never takes for granted the support it receives from the local community."
With 'Still Standing' InChorus will showcase a range of new material as well as some well-known crowd pleasers.
The choir will perform music from Coldplay, Adele, Bob Dylan, Pink, ELO, Lighthouse Family, Bee Gees, Elton John, George Michael and Aretha Franklin – the singers will also sing songs in Gaelic and Italian.
Au Aria, the choir's musical director, said, "The choir offers its own unique mix of inspiring contemporary music performed in its own vibrant style.
"There's everything from pop and rock to traditional music and there's even a touch of opera.
"We like to give our audience variety and we guarantee that there will be something to suit every taste."
'Still Standing' will be on at Assembly Roxy Central, 2 Roxburgh Place, Edinburgh EH8 9SU (Venue 139) on 15th August at 6.30pm.
Tickets cost £13 (£12) and are available from Assembly Roxy on 0131 623 3030 and assemblyfestival.com, and from the Fringe Box Office on 0131 226 0000 and edfringe.com
For further information about InChorus see www.inchoruschoir.co.uk
Related posts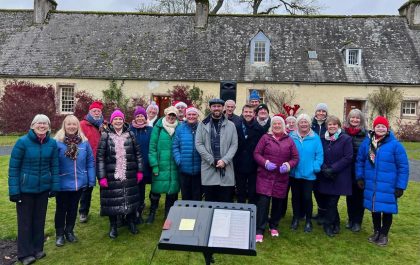 A Traquair Christmas singout
It didn't rain and it didn't snow but everyone was prepared and looked festive for singing at Traquair on Sunday…